Donations from Rotarians of District 6650 are making a difference
and changing lives around the world
Last year Rotarians world-wide donated nearly $125 million dollars to 'Do Good in the World.'
If you want to learn more about giving opportunities, including Rotary's prestigious Paul Harris Fellow Award,
please click HERE to email the District Foundation Chair, Dr. Peter Apicella.
---
GLOBAL GRANT - CLASSROOM-BASED LIBRARIES FOR ELEMENTARY SCHOOLS IN CAM LO, VIETNAM - DECEMBER 2018
PDG Sieglinde Warren partnering with PDG Do Nguyen, D6600, and generous Rotarians from our District have been awarded a Rotary Foundation Global Grant to provide Classroom-Based Libraries for Elementary Schools in Cam Lo, Vietnam.
The objective of the project was to solve the book shortage by introducing the concept of a classroom-based library promoting education for children in remote areas. The Grant promotes English learning and trains educators in the best use of books and classroom-based libraries.
The Grant will benefit 194 classes at 16 elementary schools and more than 4000 students.
Cam Lo is one of the most disadvantaged districts in the province. Most of the communes in the district are accessible by road; however, the roads between the villages are very poor, taking hours to walk from the commune center to a village.
Our $10,000 in District Designated Funds (DDF) combined with generous Rotarians was matched by The Rotary Foundation generated the $36,225 needed for this project.
---
GLOBAL GRANT - PEGASUS MILITARY FAMILY CENTER - A Rotary/Pegasus/Walsh University Collaboration - Fall 2018
Over the past three years Rotarians from our District have assisted in the creation of a special place called the Military Family Center in Louisville, Ohio. This is a collaboration of dedicated Rotarians from our District, The Rotary Foundation, Pegasus Farms, Walsh University, the Timken Foundation, and other local charities.
What began as a desire by Rotarian Ron Mance from Perry Township Rotary, a Gold Star Father, to make a difference for military veterans, became an inspiration for the Rotary Club of Jackson Township, and a mission for our District - providing a comprehensive community-based equine therapy program to assist the physical, occupational, and emotional needs of veterans, active-duty military, first responders, and their families.
Pegasus Farms of Stark County was already provided equine therapy assisting physically and mentally challenged individuals. They agreed to partner with our Rotary District, to expand a small veterans program, into a larger holistic program providing various therapies focusing on the needs of the military community.
Walsh University trains physical therapy, occupational therapy and clinical therapy students. Hearing of our project, they agreed to make the Military Family Center an educational training site, utilizing their students to provide therapy, under the supervision of their faculty, and at no cost.
Funding for big projects is always a challenge our rotarians decided to purchase physical and occupational therapy equipment using a Rotary Foundation Global Grant Unlike usual Global Grants, these funds would be directed to the United States We partnered with Districts in India with whom we had previously helped through several Rotary Global Grants
This Grant provided more than $100,000 for physical and occupational equipment, with donations coming from many clubs, and generous, rotarian donors, to support this project This was truly a global project in our back yard.
A 20-acre parcel of land in Louisville with a horse farm including 20 stables, a riding arena, and a large house was leased to provide a home for the Military Family Center entirely with the financial support of local Rotarians. The capital cost to complete the land purchase, provide the necessary facilities, and operate the program for 2 years was estimated at $1.3 million The Timken Foundation along with other foundations have agreed to provide most of the remaining funds.
Together, this partnership is providing a safe, welcoming environment for veterans, active-duty military, first responders, and their families, to have the support they need, to cope with life's challenges. All activities are overseen by a Board which includes local Rotarians and our District who is overseeing the Rotary global grant.
Special thanks are in order for all the Rotarians involved in this project and Past District Governors Phil Mariola, George Hayes, Meena Patel, and Debbie Esbenshade for all their efforts to bring this project to fruition.
The Rotary Foundation - making a difference around the world and in our community.
---
GLOBAL GRANT - LIFE-SAVING EDUCATIONAL EQUIPMENT - SANTA ROSA DE COPAN, HONDURAS - SEPTEMBER 2018
Central American Medical Outreach (CAMO) is a not-for-profit humanitarian organization that brings life-saving medical services, education and community development to Central America.
It was started in 1993 by former Peace Corps nurse Kathryn Tschiegg, now a Rotarian in the Orrville Club, after she witnessed desperate need of medical accessibility and community improvement in Honduras.
The Rotary Club of Orrville, along with CAMO, obtained a Rotary International Global Grant for $25,000 after District 6650 committed $15,000, local clubs donated $17,000 and individuals donated $3,000.
The $60,000 initiative purchased state­-of-the-art technology and manikins to provide basic, advanced, pediatric, and neonatal life support education to train trainers, medical professionals, and first-responders. Moneys were also be used to educate Hondurans on the prevention and treatment of heart disease, heart attacks, and strokes.
These high-tech SMART STAT trainer manikins (adults, infant and newborn) and iPad technology simulate multiple medical interventions which significantly increases knowledge and skills of medical professionals.
After the new equipment arrived and was installed in CAMO's Academy, Train-the-Trainer sessions were held for nine instructors who teach Basic and Advanced Cardiac Life Support and Pediatric Advanced Life Support.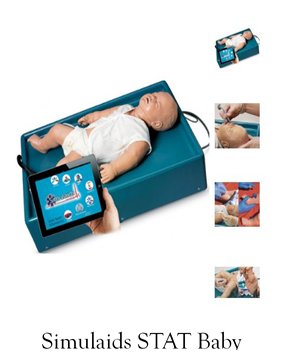 Through CAMO's National Training Center for the American Heart Association, these trainers have led 38 courses for fifteen different health care organizations. As a result of the newly acquired equipment from the Rotary grant, 799 people have already been trained by September 2018, including physicians, nurses, paramedics and first responders from various health facilities in San Pedro Sula (three hours away) to rural areas such as San Andres as well as locally in Santa Rosa de Copan. The goal is to double the number of certified trainers and ultimately train 2,500 individuals.
Kathryn Tschiegg, "On behalf of CAMO and the Rotary Club of Santa Rosa de Copan, many, many thanks!"
---
GLOBAL GRANT - WATER & SANITATION PROJECT FOR PEOPLE IN VILLAGE OF HUONG NGUYEN, A LUOI, VIETNAM - JANUARY 2018
Past District Governors (PDGs) Sieglinde and Larry Warren visited our project to provide safe water, hygienic latrine and WASH (water, sanitation and hygiene) training to the ethnic minority in Huong Nguyen commune, A Luoi, Vietnam.
Our $5000 in District Designated Funds (DDF) combined with three other districts including partner PDG Do Nguyen from District 6600 was matched by The Rotary Foundation by $32,000 and generated the $71,000 needed for this project.
Click HERE for a 7 minute inspiring video.
---
GLOBAL GRANT - WATER PROJECT FOR ODISHA, INDIA - JULY 2016
Past District Governor (PDG) Dr. Meena Patel has requested our committee consider a new project which consists of construction of 40 Units of toilet blocks in and around schools of District 3262 – Odisha, India.
Lack of sanitary facilities in schools is a significant problem in this area. Sanitation, and hygiene education in schools, commonly known as WASH in Schools, (WinS) provides improved sanitation facilities and hygiene education. With the grant, they plan to construct sanitary blocks / toilets as well as wash basins for hand wash in the school. They will also provide for water purification systems for safe drinking water to some schools where these facilities are not available. After construction and proper sanitary education, they expect better attendance in the school. Encouraging the development of healthy behaviors in the youth, will change behavior throughout the community and bring significant breakthroughs in eradicating disease and improving health.
The sanitation issue is also important because of the effect on girls. The lack of privacy related to puberty causes girls to drop out of school, and girls are expected to contribute to the household far younger than boys – being trained for a role as a wife, mother and daughter-in-law, whereas boys are being trained for an occupation.
Last year's project of 122 Units of toilet blocks in and around schools of District 3131 - Pune and Raigad, India, has been approved and work has begun. District 6650 contributed $10K and local clubs $3.5K with Rotary match generating more than $65K for the project.
UPDATE: 11/20/16 - Grant Approved: $52,310 !
---
GLOBAL GRANT - WATER PROJECT FOR OHOLI, MAHARASHTRA, INDIA - JUNE 2016
Past District Governor Meena Patel brought us a request from OHOLI in Taluka Wai, District Satara, Maharashtra state of India.
This village is deprived of nearly-every natural resource required to meet and maintain basic standards of life. Every day, women spend half of their working hours collecting water over long distances and climbing lots of steps (more than 5 to 6 trips a day for their family).
After age 35, the women are exhausted and unable to continue this work. This has led to cases of socially unfavorable family polygamy with the sole objective for someone to gather water.
This Rotary Global Grant will provide for digging a production water well, installation of pumping machinery, and laying a pipeline to transport water to a stand post.
Our District has dedicated $10K toward the grant which along with $6K from District 3132 and $1K from the local Rotary clubs. This was matched by The Rotary Foundation providing $35K for the project.
Update August 2017 -
The local Interact Club raised funds and donated seeds and sapplings of vegetable plants and fruit trees. This is good education for the kids.
The large birds are called Great Coucal or Crow Pheasant with a beautiful wingspan. These birds are often seen in Monsoon season, but now they will be there throughout the year because of growing vegetation and year-round water.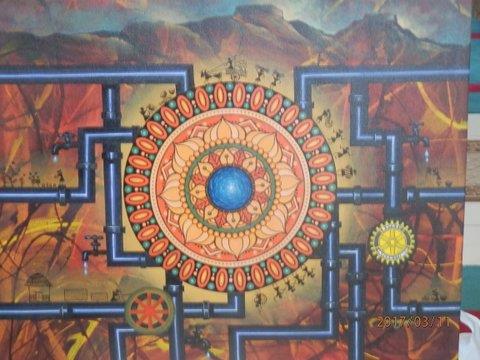 This painting was made by a villager who studied in Paris and shows the success of the project.
Local mountains in the background.
Central blue circle is well full of water.
Festive people around the well.
Top-left shows difficulty for people but on the right with the Rotary wheel, the people are rejoicing with the water they now have.
Click HERE to read an article written by Rotary Past District Governor Dr. Meena Patel about this wonderful project.
---
GLOBAL GRANT - OBATAAN PA WOMAN'S HOSPITAL ACCRA, GHANA PROJECT - NOVEMBER 2015
Recently our District supported the construction of the Obataan Pa Women's Hospital Accra, Ghana, in conjunction with Dr. Amelia Laing who practices Obstetrics and Gynecology in Orrville, Ohio. This inpatient and outpatient clinic provides obstetric and gynecologic services for women of the region.
Assistant Governor Lynn Horner organized a Global Grant Project which provided vocational training and utility vehicle to assist the Hospital.
The vocational team provided training and coaching in the American Congress of Obstetricians and Gynecologist (ACOG) and Association of Perioperative Registered Nurses (AORN) standards of care. This is critical to maintaining qualified and dedicated staff.
The utility vehicle provided outreach health screening and teaching clinics, obtained supplies, blood, lab, medications, oxygen, diesel and other emergent and daily needs as well as shuttle hospital personnel to and from transport hubs.
Support from District 6650 Rotary clubs included Orrville $7,000, Wooster $1,000, Louisville $300, Salem $250, Rittman $100, and cash of $9,650. Accra provided $1,000. Rotary provided matching funds of $22,325 for total project financing $49,475.
UPDATE: Lynn Horner accompanied the group to Obataan. "Funds were used to purchase a new Nissan Navarra truck, send and support a 5 member vocational training team for 2 weeks, provide outreach clinics to over 125 women and to provide educational training to other area midwives. The team felt its biggest successes were in establishing a sustainable model for monthly outreach clinics and implementing a revised chart form to encourage better care and documentation during the perinatal period. Next steps include a visit by a volunteer biomedical engineer to set up a maintenance program for the hospital's equipment and to determine the feasibility of bringing two Ghanaian nurses to the US for training."
---
GLOBAL GRANT - TOILET BLOCKS FOR PUNE AND RAIGAD, INDIA
District 3131 in India, has partnered with us before and done various water projects throughout their area of India. Past District Governor (PDG) Meena Patel has brought us a new project which consists of proposed construction of 122 Units of toilet blocks in and around schools of District 3131 - Pune and Raigad, India.
The sanitation issues are important because they affect girls more than boys. The lack of privacy related to puberty causes girls to drop out of school, and girls are expected to contribute to the household far younger than boys – being trained for a role as a wife, mother and daughter-in-law, whereas boys are being trained for an occupation.
Donor Clubs: Boardman, Dover, Jackson Township, Plain Township, and Salem.
UPDATE: 4/12/16 GRANT APPROVED - Total $65,875 !!!
---
GLOBAL GRANT REQUEST - DIABETIC RETINOPATHY CENTRE IN INDIA
The Rotary Club of Udhampur, India, is working with the Diabetic Retinopathy Centre at the Rotary Eye & ENT Hospital of Udhampur, Jammu, and Kashmir, India.
The hospital was established in 2000 and has treated more than 11,000 poor people suffering from eye ailments.
The hospital has secured a vitreoretinal surgeon who can perform treatment of Diabetic Retinopathy using lasers. 80% of patients with diabetes for more than 10 years develop ocular manifestations of the disease, and if untreated, this serious condition leads to blindness. If treated early, 90% of patients have a chance of keeping their vision.
The Rotary Global Grant is for purchasing an expensive surgical microscope for ophthalmic surgery and laser system ($61K).
STATUS: Approved.
---
TERM GLOBAL GRANT - MUMBAI, INDIA, DISTRICT 3140
Rotary Clubs of Niles and Jackson Township have consented to be international partners for two projects in Mumbai for $50,000 each. These are funded by the Mumbai District to do free heart surgeries in children around slums in Mumbai.
STATUS: Approved
---
If you or your club would like to recommend, partipate, or financially support a Rotary Global Project -
Please click HERE to email the District Foundation Chair, Dr. Peter Apicella.